Heavy Duty Wire Baskets
40x48x36 stackable & collapsible heavy duty Wire Baskets. 4000#capacity.
New $250ea Used in great condition!
$125ea
Min order is 10. First come – first serve only.

Versatile Racking Solution
Industrial Wire Baskets can help make warehouse storage of small or loose items much easier. Since they are forklift friendly, they can be stacked and then stored in your pallet racking system making your warehouse even more organized.
Need New or Used Racking? – Get A Free Quote – (832)748-3413
Why Use Wire Baskets?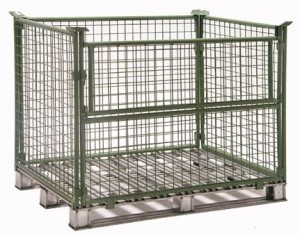 Wire Containers are the perfect solution for your material handling needs. Why should you use Wire Mesh Containers instead of Wooden Boxes or Crates?
Wire Mesh Containers

Stackable
Product visible
Mobile by forklift
Gates for easy product access
Fire safety
Collapsible for easy storage

Wooden Containers

Do not stack safely
Product not visible
No gate, for easy access
Short life cycle
Water will not flow through box
Need Other Pallet Racking Solutions? – Get A Free Quote – (832)748-3413