Best Uses For Cantilever Rack And Racking Systems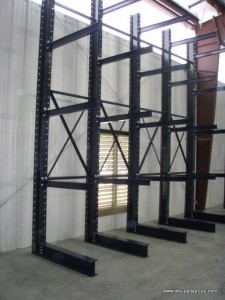 Cantilever Racking systems are great for storing heavy, extra long or bulky loads like lumber or pipe. Like Pallet Racking, Cantilever Rack can be scaled for very large warehouse sections or smaller areas. They can also make heavier loads more accessible by forklift. They're a great way to to organize long or heavy items.
Versatile Storage Space
Our structural cantilever rack can be configured as single sided (as pictured) for picking from one side, or as double sided so you can pick from either side.
Space Efficient
The base sections can also be used for additional storage or for overflow of items stored on the arms. The Arms are adjustable so you can get as many or as few levels as you need.
We stock new and used Structural and Roll Formed Cantilever Racking
Some of the things that can be stored easily with Cantilever Racks:
Wood or Lumber
Sprinkler Pipe
Plywood
PVC Pipe
Indoor Or Outdoor
Made from heavy duty steel, cantilever racks are extremely durable. That means you can use them for indoor or outdoor storage. Even adding single or double shed covers for more weather sensitive materials.
Basic Configurations
Cantilever rack consists of a few basic component parts:
Column – the upright portion. Made for for single sided or double sided cantilever installations. The minimum number of columns is two to erect a section of cantilever racking.
Base – one per column for single sided installations, two for double sided installations.
X-Brace – Spaces the columns and provides lateral stability. One X-Brace is generally needed for each pair of columns.
Strut Brace – Provides lateral stability on 16′ columns. Installed at the top.
We Are The Warehouse Storage Experts
If you're not sure exactly what cantilever rack system will be right for your product, give us a call. We'll provide a complimentary inspection of what you want to store and give you some guidance on which type of rack will be right for you.
Need New or Used Racking? – Get A Free Quote – (832)748-3413