RIVET SHELVING or WIDESPAN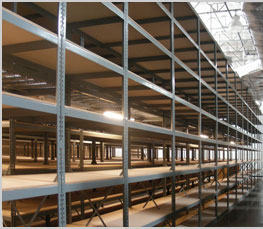 Rivet Shelving sometimes referred to as Widespan or Boltless Shelving, is commonly used in applications that require high load capacity in widths beyond what standard metal shelving is available in. Its design allows quick assembly and brace free construction.
Brace free construction allows access to shelving levels from both sides with no X-bracing to interfere. Certain sizes and load applications have bolt in supports for strength while others require only a rubber hammer to tap the components into position. Our Low Profile series gives the user the lowest cost multi-level shelving available!
Need New or Used Racking? – Get A Free Quote – (832)748-3413