New Metal Shelving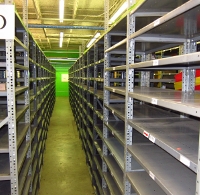 We specialize in selling shelving which begins with high strength steel ( 50,000 psi test ) that is cold rolled to specified dimension. After forming the components in presses using up to 150 tons of pressure some of the components are roll formed into final shape.
From there shelving components are put through a three stage washing process at the start of our modern powder coating line. After washing they are oven dried and sent thru our Nordsen powder coat spray booth where environmentally friendly powder coating is electrostatically applied. From there it goes to our curing oven where it spends a precise amount of time to allow the coating to bond to the components. This finish is highly resistant to scratching, fading, peeling.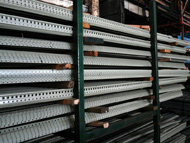 Used Metal Shelving
Massey Rack features used industrial metal shelving units to meet your warehousing needs. Due to advanced methods used to improve the look of metal and its weight, Used Metal Shelving from The Surplus Warehouse shelving units are rapidly becoming one of the most popular storage solutions.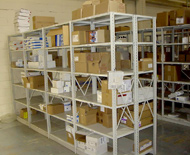 Massey Rack has a variety of both open and closed steel shelving. With the use of back and side braces, open steel shelving exhibits good stability by eliminating front, back, and lateral sway. Closed steel shelving tends to offer greater stability and protection of stored items by enclosing the back and sides of the unit.
Need New or Used Racking? – Get A Free Quote – (832)748-3413